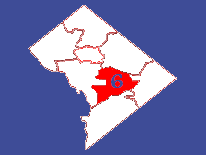 The following Ward 6 centers are funded by the DC Office on Aging. They serve nutritious, well-balanced congregate meals at the center daily, or will arrange for meal delivery to a homebound person. Contributions are encouraged.
Asbury Dwelling
1616 Marion Street, NW
Washington, DC 20001
(202) 745-7434
Map
Arthur Capper Senior Center
900 5th Street, SE
Washington, DC 20003
(202) 546-1024
Map
Greenleaf Senior Building
1200 Delaware Avenue, SW
Washington, DC 20024
(202) 554-3100
Map
Hayes Senior Wellness Center
500 K Street, NE
Washington, DC 20002
(202) 727-0357
Map
Sibley Plaza
1140 North Capitol Street, NW
Washington, DC 20002
(202) 408-4700
Map
For more information on how you may participate, contact the DC Aging and Disability Resource Center in Ward 6 or call the DC ADRC Information and Assistance at (202) 724-5626.
Office Hours:
Monday to Friday 8:30 am to 5 pm.