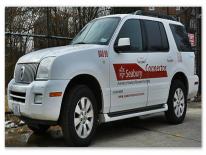 Seabury Connector
Where can Seabury Connector take you?
Seabury Connector takes you to medical appointments including dialysis and cancer treatment, as well as personal business related to public benefits such as Social Security, housing assistance, and the Supplemental Nutrition Assistance Program. (SNAP)
Who can ride?
Washington, D.C. residents, age 60 and older.
Make a reservation.
202-727-7771 Monday-Friday
7:30 a.m. to 6:00 p.m.
Please schedule in advance.
> Language translation services available.
> Telecommunications Relay Service 711.
What does it cost to ride?
There is no charge to ride with the Seabury Connector, but enrollment is required.
Seabury Connector
6031 Kansas Avenue, NW
Washington, DC 20011
Phone: 202-727-7771
ConnectorCard Program
This program provides older adults, age 60 and over, with a debit card that can be used for ground transportation services to the destination of their choice. The amount of subsidy provided through the card is based on a sliding fee scale.
ConnectorCard Program Office
6031 Kansas Avenue, NW
Washington, DC 20011
Phone: 202-844-3000
Washington Metropolitan Area Transit Authority (WMATA)
Metro offers reduced fares and paratransit service for senior citizens and persons with disabilities.
Metro Headquarters
Transit Accessibility Center (Lobby Level)
600 Fifth Street NW
Washington, DC 20001
Phone: (202) 962-2700
TTY: (202) 628-8973
Transport DC
The Transport DC (formerly CAPS-DC) program provides alternative taxicab transportation to MetroAccess customers. Customers will receive transportation to and from anywhere in the District and offer efficient, curb-to-curb taxicab or wheelchair accessible vehicle service for DC residents to ensure an improved travel experience. MetroAccess customers are encouraged to try the Transport DC service any time travel is needed. Book your ride by calling 1-844-322-7732 For more information, click here.
Office Hours:
Monday to Friday 8:30 am to 4 pm.