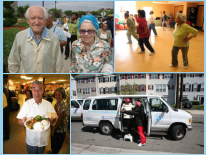 The Office on Aging is the District of Columbia's Agency on Aging that oversees direct services to persons 60 and older through a Senior Service Network. Within the Senior Service Network are eight community-based agencies, funded by the Office on Aging, to provide health, education and social services. In order to use DCOA'S services, seniors are required to become registered participants through the Senior Service Network Lead Agency in their Ward.
In-house, the Office on Aging operates one direct services program: ADRC Information and Assistance Unit (request). DCOA also operates (with support from the Department of Health Care Finance) the DC Aging and Disability Resource Center (ADRC), a one-stop resource for long-term care information, benefits and assistance for residents age 60 and older and people with disabilities age 18 and older.
Additional services provided through the community agencies include:
Adult Day Care
Adult Education
Emergency Shelter
Health Insurance Counseling
In-Home Relief
Legal Services
Transportation
In this section, you will find the following services:
Office Hours:
Monday to Friday 8:30 am to 5 pm.