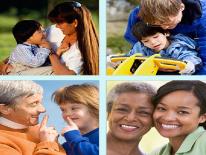 Caring for someone who has mental or physical limitations and not receiving pay? Feeling exhausted or burned out as a caregiver?
If the answer is yes, then let us assist you in finding a respite provider so you can take a much needed break!
The Lifespan Respite Program, is designed to help connect caregivers with necessary resources to assist them with regaining perspective and finding comfort in even the most difficult caregiving situations.
Lifespan Respite program includes:
Lifespan Respite volunteer program- Under Development
Bi-weekly online chats-

Every other week online chats discussing various caregiving topics, needs and issues

Flex spending- D

esigned to address affordability barriers for caregivers and prevent caregiver burnout.

The Lifespan Respite Flex Account system can reimburse or give caregivers funds to use for respite care expenses. Varius in-home and out-of-home services are covered up to 600 dollars.

Referrals for Respite Care
Contact DCOA for more information.
Office Hours:
Monday to Friday 8:30 am to 5 pm