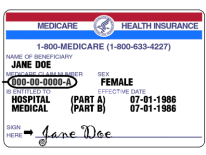 The Health Insurance Counseling Project (HICP) provides free health insurance information, education, and counseling services to Medicare beneficiaries and seniors who live in the District of Columbia. In addition to assistance with health insurance issues, HICP also assists seniors with resolving unpaid medical bills, making appeals for denials of medical services, and obtaining prescription medications.
HICP can answer questions and provide assistance on issues relating to health insurance including Medicare, Medicaid, Medigap (Medicare supplemental insurance), Medicare+Choice (Medicare managed care), long-term care insurance, long-term care, federal employee health benefits, unpaid medical bills, HMOs, durable medical equipment, and hospice care. For assistance call 202-727-8370.
Related Documents:
Office Hours:
Monday to Friday 8:30 am to 4 pm.