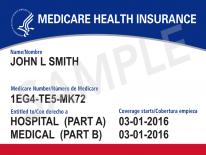 The DC State Health Insurance Assistance Program (SHIP) provides free health insurance information, education, and counseling services to Medicare beneficiaries and seniors who live in the District of Columbia. In addition to assistance with health insurance issues, SHIP also assists seniors with resolving unpaid medical bills, making appeals for denials of medical services, and obtaining prescription medications.
SHIP can answer questions and provide assistance on issues relating to health insurance including Medicare, Medicaid, Medigap (Medicare supplemental insurance), Medicare+Choice (Medicare managed care), long-term care insurance, long-term care, federal employee health benefits, unpaid medical bills, HMOs, durable medical equipment, and hospice care. For assistance call (202) 727-8370.
Part D Open Enrollment October 15 through Dec. 7
Are you interested in lower costs, better coverage, or perhaps just learning that your current plan is still best for your situation? Review your options during Medicare Open Enrollment. Look at all your health plan choices for 2019—including prescription drug plans and Medicare Advantage plans from private insurers. Check out the Plan Finder to see what is right for you https://www.medicare.gov/plan-compare/#/?year=2019 or call DC SHIP (202) 727-8370.
This project was supported, in part by grant number 90SAPG0019-03-00, from the US Administration for Community Living, Department of Health and Human Services, Washington, DC 20201.
Office Hours:
Monday to Friday 8:30 am to 4 pm.