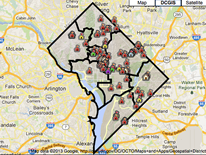 Search for community dining on an interactive map. There are several ways to use this map.
Above the map, find your ward number and the associated lead agency by using the following instructions:
Provide your street address
Select your location from the menu below.
After making a selection, click "Find nearest lead agency for this location" button and the map will re-center at the lead agency closest to your address. You will find that your ward number and lead agendy are now pre-selected from the dropdown menu under the map.
Using the second dropdown menu, you can search through a list of services and locations for your ward. Scroll down to "Community Dining" and select one of the locations that is most convenient for you from the list. The map above will again re-center on that location and a pop-up window will appear with the name, address, phone number and category on it.
For additional information about this selection, click on the text, "Details" at the bottom of this window. You may also plan a trip to this location using the WMATA Trip Planner by clicking on that text.
Office Hours:
Monday to Friday 8:30 am to 5 pm.