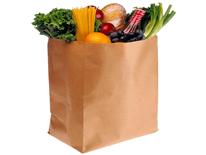 The Grocery Plus Program, also known as the Commodity Supplemental Food Program (CSFP), is a program that aims to improve the health of low-income seniors by supplementing their diet with nutritious foods. Grocery Plus program is delivered through The Capital Area Food Bank and provides 30-40 pounds of healthy groceries to low-income seniors aged 60 or older living in the District of Columbia. In addition to providing nutritious food, the Grocery Plus program also provides nutrition education to assist participants to improve their health through better nutrition.
Food Provided through the Program
Each participant receives his/her own free food package monthly. The quantity of each item in the package varies month-to-month.
Cereal
Cheese
Beans or Peanut Butter
Low-fat milk
Fruits
Fruit juice
Grain and pasta
Canned meat, fish, and poultry
Non-fat dry milk
Vegetables
Over the summer months, Grocery Plus provides participants with farmers' market vouchers through the Senior Farmers Market Nutrition Program. Vouchers are redeemable for produce at participating area farmers markets. Of note, Grocery Plus groceries are not prepared. To learn more about senior prepared meal service in the District of Columbia, please contact the DC Office on Aging at (202) 724-5626.
CFSP Eligibility
The Grocery Plus program is open to all seniors aged 60 or older living in the District of Columbia who meet the federal income guidelines.
As of February 6, 2014, only older adults aged 60 and older may enroll in the Grocery Plus program. All participants under 60 years of age that enrolled before February 6, 2014 may continue to participate until they are no longer eligible for the program.
Contact information
For more information or to see if you eligible for CSFP, contact Information, Referral and Assistance at (202) 724-5626.
Office Hours:
Monday to Friday 8:30 am to 4 pm.