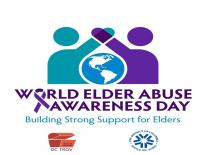 June 15, 2017 is World Elder Abuse Awareness Day (WEAAD), a day for communities around the world to promote a better understanding of abuse and neglect of seniors by raising awareness of the cultural, social, economic and demographic processes affecting elder abuse and neglect.
Launched in 2006 by the International Network for the Prevention of Elder Abuse and the World Health Organization at the United Nations, WEAAD was established in support of the U.N.'s International Plan of Action to acknowledge the significance of elder abuse as a public health and human rights issue.
In the District of Columbia, a city that values the just treatment of all its residents, WEAAD is a reminder that elder abuse has implications for all of us and we all have the duty to contribute to solutions for prevention. WEAAD is a call-to-action for individuals, organizations, and communities to educate each other on how to identify, address and prevent abuse. We can all do our part to support everyone as they age.
The D.C. Office on Aging Elder Abuse Prevention Committee (DCOA EAPC) and the District's Collaborative Training and Response to Older Victims (DC TROV) collective invites all District government agencies and employees to commemorate WEAAD here in DC.
Ways to Observe WEAAD in DC

Wear Purple:

On Thursday, June 15, 2017 wear purple to show your support in the worldwide effort to prevent elder abuse. The color purpose symbolizes the growing problem of elder abuse around the world.

Social Media Post:

Create a post on sites like Facebook, Instagram, and Twitter that help promote WEAAD here in DC. Use the hashtag #WEEADDC and the WEAAD logo (

http://eldermistreatment.usc.edu/wp-content/uploads/2017/02/WEAAD_rgb.jpg

) in your posts.

Learn

More About the Issue:

http://eldermistreatment.usc.edu/wp-content/uploads/2017/02/WEAAD_Factsheet_HowToAnswerQs_508web.pdf
Report Abuse
To report suspected incidents of abuse in D.C. call Adult Protective Services: (202) 541-3950. And to report suspected incidents of abuse in a D.C nursing home or long term care facility call the D.C. Long-Term Care Ombudsman: (202) 434-2190.
Event Commemoration Sponsors
The DC Office on Aging Elder Abuse Prevention Committee is funded by an elder abuse prevention grant from the U.S. Department of Health and Human Services. It is comprised of advocates and representatives from District and federal governments, community-based agencies and senior volunteers who carry out activities focused on the prevention of abuse, neglect or exploitation of the elderly in D.C.
The Network for Victim Recovery of D.C. (NVRDC), a local non-profit, provides free and comprehensive legal and case management services to victims of all types of crimes in D.C. regardless of income. With the support of a grant from the Office Against Violence on Women at the U.S. Department of Justice, NVRDC established DC TROV to better assist elder abuse victims in D.C. and increase the ability of stakeholders to assist, investigate, and prosecute elder abuse. DC TROV is a multidisciplinary team comprised of District and federal government employees and representatives from community-based organizations.