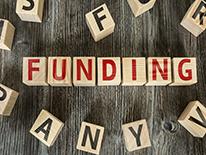 DISTRICT OF COLUMBIA
OFFICE OF THE MAYOR
OFFICE ON AGING
NOTICE OF FUNDING AVAILABILITY
Fiscal Year 2019 Senior Transportation
Program Grant
The Government of the District of Columbia, Office on Aging (DCOA) is soliciting applications from qualified applicants to operate the DC Office on Aging Senior Transportation Programs. DCOA transportation programs provide quality transportation services for District residents 60 years and older to 1) essential medical and life-sustaining appointments, 2) adult daycare centers, wellness centers, group trips and special events, 3) administration and operation of the Debit Card program and 4) the delivery of Home Delivered Meals (HDM). The Request for Application (RFA) seeks an organization(s) with strong capacity and a track record of excellent customer service. An existing fleet to operate the programs is preferred.
Federal and District of Columbia appropriated funds up to $6,000,000 are available for a single or collaborative applicant organization to operate one or up to four transportation services. There is no match requirement. However, applicants must demonstrate tangible resources to sustain at minimum three months operations cost. The successful applicant must put participant contributions back into the program to serve more participants.
The successful applicant(s) will design services to meet a variety of evolving needs of the city's diverse elderly population, especially older individuals with the greatest economic and social needs, and other underserved populations. The successful applicant(s) will manage its fleet and implement services that remove transportation barriers for seniors with disabilities, while linking them to affordable, on demand and gap-filling transportation that enhance their physical, social and emotional well-being through connectivity to sites and activities in and around the city, medical appointments, and HDM delivery.
Service Areas
Applicants responding to this RFA shall be responsible for delivering transportation services to the target population in four service areas:
Service Component One: Essential Medical Transportation;
Service Component Two: Transportation to DCOA Funded Sites and Activities;
Service Component Three: Debit Card Transportation Services; and
Service Component Four: Transportation of Home Delivered Meal Service
Priority Services
Applicant's responsibilities include but are not limited to:
ensuring safe and reliable transportation operation in all weather conditions with few black-out dates;

providing daily essential medical and life-sustaining transportation daily for a minimum of 4,898 participants through the year;

transporting, at minimum, 75 enrolled participants daily to three (3) adult day centers and transporting enrolled seniors at 47-weekday community dining sites located in eight wards including seniors who are hearing and visually impaired to sites and activities;

transporting approximately 60 seniors to a city-wide weekend community dining site in Ward 7;

coordinating with local transportation providers to fund debit card transport services requiring no reservations for approximately 318 seniors annually;

coordinating and implementing weekday and weekend meal delivery services for approximately 463 homebound seniors;

developing senior-friendly service enhancements and innovations that provide access and ease of using transportation;

establishing an ongoing process to keep seniors informed and aware of transportation options, as well as, rider subsidy programs; and

track service data in the DCOA database and submit complete, accurate and timely reports as required.
Non-profit organizations with places of business within the physical boundaries of the District of Columbia are eligible to apply. For-profit organizations with places of business within the physical boundaries of the District of Columbia are also eligible to apply, but must not include profit-making that accrues back to their organization in their grant application.
The RFA will be released February 28, 2018. The application submission deadline is April 9, 2018, at 2:30 PM EST. A Pre-Application Workshop is scheduled for 10:30 AM EST on March 5, 2018, at 500 K Street, NE, Washington, DC 20002, First-floor conference room. The RFA will also be available on the Office on Aging's website, www.dcoa.dc.gov and the Office of Partnerships and Grants Development's website, www.opgd.dc.gov. no later than March 2, 2018, after publication in the DC Register.