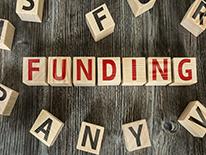 DISTRICT OF COLUMBIA
OFFICE OF THE MAYOR
OFFICE ON AGING
NOTICE OF FUNDING AVAILABILITY
Fiscal Year 2018 Lead Agency – Senior Wellness Center Ward 8 Competitive Grant

The DCOA seeks to award grants to community-based organizations to provide a full range of services in Ward 8. The service scope for this RFA includes providing a ward-based continuum of services for 1) active seniors engaging them in prevention health and education, and intergenerational volunteer supporting by programs; 2) specialized services to people with disabilities (ages 18 to 59) to easily access resources and support services needed to effectively navigate long-term care options to remain independent and connected to the community; and 3) services to homebound and isolated seniors linking them to needed supports that prevent institutionalization.
Funding is available for one applicant to serve Ward 8 in the District of Columbia. A total of $1,373,467 is available through the DC Office on Aging from both Federal and District appropriated funds.
The purpose of these funds is to complement existing educational services and start up programs that target the senior population living in the District of Columbia. Examples of the service areas include, but are not limited to the following:
case assessment/case management;
congregate meals;
counseling;
health promotion;
home delivered meals;
nutrition counseling;
nutrition education;
recreation socialization;
transportation of home-delivered meals;
transportation to site and activities;
weekend congregate meals;
weekend home delivered meal service;
disease prevention and medication management; and
Provide operational oversight for Congress Heights Senior Wellness Center located at 3500 Martin Luther King Jr., Avenue 20032
In addition, the operator of the Lead Agency and Congress Heights Senior Wellness Center has the following responsibilities:
Develop and implement a needs assessment to identify the needs in the target community;
Ensure coordination and cooperation between the Ward 8 community, Lead Agency, and Senior Wellness Center;
Develop and implement a structured community outreach program; and
Establish a Members Advisory Council to serve as advisors to help develop a coordinated service delivery system; and
Engage in person-centered training and practices in providing services to participants.
Applicants who apply to this Request for Application must design services to meet the complex and ever-changing needs of the elderly individuals with the greatest economic and/or social needs, with particular emphasis on the low-income minority elderly.
Nonprofit organizations with places of business within the physical boundaries of the District of Columbia are eligible to apply. For-Profit organizations with places of business within the physical boundaries of the District of Columbia are also eligible to apply, but must not include profit-making activities in their grant application.
The RFA will be released on June 26, 2017. A pre-application conference will be held June 30, 2017, 2:00 p.m. at the DC Office on Aging, first floor conference room, and the deadline for submission is August 7, 2017, at 4:30 p.m. Applications can be obtained from the D.C. Office on Aging, 500 K Street, NE, Washington, DC 20002. The RFA will also be available on the DC Office of Aging's website, www.dcoa.dc.gov and the Office of Partnerships and Grants website, www.opgd.dc.gov. Inquiries should be forwarded to Aurora Delespin-Jones at [email protected] or by calling (202) 724-5626.