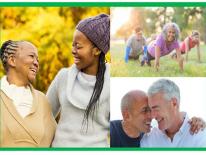 We are pleased to share with you the draft of the 2019-2022 State Plan on Aging for your review and comments. This State Plan is the result of months of gathering community input through our interactive State Plan workshops, at our quarterly town halls, budget presentations, and listening to feedback at our public hearings. We are proud to say that the goals and objectives in this State Plan were driven by the community.
We invite you to take the time to review the draft State Plan and attachments. We will be accepting public comment until Friday, June 22, 2018 at 5pm.
Comments can be submitted to [email protected] or by calling 202-724-5626.