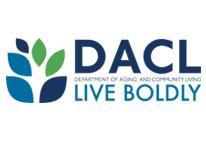 Welcome to the DC Aging & Disability Resource Center (ADRC).

The DC ADRC provides a single, coordinated system of information and access for individuals seeking long-term services and supports. This is accomplished through the provision of unbiased, reliable information, counseling, and service access to older adults (60 years and older), individuals with disabilities (18 to 59 years old), and their caregivers. The ADRC facilitates the acquisition of services individualized to the unique needs and desires expressed by each person.

The ADRC strives to empower individuals to effectively navigate their health and other long-term support options by:
• serving as visible and trusted sources of information on the full range of long-term care options;
• providing personalized and objective advice and assistance to empower people to make decisions about their support options;
• providing coordinated and streamlined access to all publicly-funded long-term care programs through a single intake, assessment and eligibility determination process;
• helping people transition from hospitals and other institutional settings into the community
• maintaining rigorous quality assurance

Using this website, you can easily obtain information about the District's in-home and community-based services. If you need additional assistance in locating and accessing appropriate services in your area, please contact the ADRC directly at (202) 724-5626.


Related Information