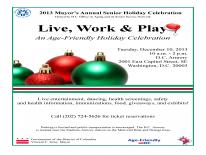 Last Date:
Location:
2001 East Capitol Street, SE
Details:
Note: This event has been canceled
The Mayor's Annual Senior Holiday Celebration will be held under the theme "Live, Work and Play: An Age-Friendly Holiday Celebration," captures the Mayor's goal of ensuring that the District is known as an Age-Friendly City, an inclusive and an accessible environment that encourages active healthy aging. More than 3,500 residents expected to attend the largest event held for District senior citizens. Hosted by the DC Office on Aging, the event will feature live entertainment, musical guests, wellness demonstrations, free facials, manicures and massages, information exhibits featuring community and government resources, with a festive lunch. The event is free, but a ticket is required for entry. Call (202) 724-5626 to reserve your ticket today! Invite your friends to celebrate the season with you.
Ward:
Ward 1
Ward 2
Ward 3
Ward 4
Ward 5
Ward 6
Ward 7
Ward 8