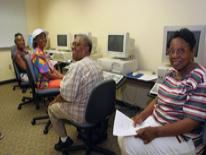 SeniorWorks II and Older Workers Employment Placement Training (OWEPT) programs assist District residents 55 years of age and older with job-hunting skills that can lead to finding a job. The older worker gains additional income, an expanded support system and personal growth.
To learn more about the following DCOA employment and training programs, call (202) 724-3662 or contact the DCOA office.
SeniorWorks II
SeniorWorks II is a structured internship program for District seniors seeking short-term volunteer opportunities and assignments working in public and private agencies, sponsored by the DC Office on Aging. Part-time volunteer internship assignments are generally limited to three months or less, with a small stipend provided to defray the intern/volunteer's travel and other workplace expenses.
Older Workers Employment Placement Training (OWEPT)
The OWETP provides employment and training opportunities for District residents 55 years of age and older. Services emphasize the development of employment and training opportunities through job search assistance workshops, on-the-job training, job development, and placement and classroom skills training. The Office is an active one-stop partner in the District of Columbia Workforce initiative.
Senior Service Network
The following program provides training to Senior Service Network personnel serving older Washingtonians to enhance their skills in serving the vulnerable elderly.
Howard University School of Social Work
Staff Development and Training for DC Office on Aging
601 Howard Place, NW
Room 319
Washington, DC 20059
Phone: (202) 806-7300
Fax: (202) 387-4309
Office Hours:
Monday to Friday 8:30 am to 4 pm.