DCOA Supports Rally for DC and 50th Anniversary March on Washington
DCOA Supports Rally for DC and 50th Anniversary March on Washington
Transportation will be provided from DCOA senior wellness centers and sites.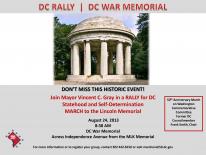 Join Mayor Vincent C. Gray in a rally for DC and march to the Lincoln Memorial on August 24 at 8:30 am at the DC War Memorial. Transportation will be provided from the following locations:
Bernice Fonteneau Senior Wellness Center
3531 Georgia Avenue, NW
202-727-0338
Congress Heights Senior Wellness Center
3500 Martin Luther King, Jr. Avenue, SE
202-563-7225
Hayes Senior Wellness Center
500 K Street, NE
202-727-0357
Hattie Holmes Senior Wellness Center
324 Kennedy Street, NW
202-291-6170
Model Cities Senior Wellness Center
1901 Evarts Street, NE
202-635-1900
Washington Seniors Wellness Center
3001 Alabama Avenue, SE
202-581-9355
Call for reservations and pick-up times today!
The website for the march is www.marchondc50.dc.gov.